We're Getting Mutants in the MCU - The Loop
Play Sound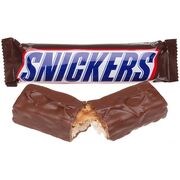 Snickers is a brand name chocolate bar made by the American company Mars, Incorporated, consisting of nougat topped with caramel and peanuts that has been enrobed in milk chocolate. The annual global sales of Snickers was $2 billion as of 2004.
In the United Kingdom, the Isle of Man, Jersey, Guernsey and Ireland, Snickers was sold under the brand name Marathon until July 19, 1990. Snickers-brand Marathon energy bars have since been sold in some markets.
History
In 1930, Mars introduced Snickers, named after the favorite horse of the Mars family. The Snickers chocolate bar consists of nougat, peanuts, and caramel with a chocolate coating. The bar was marketed under the name "Marathon" in the UK and Ireland until 1990, when Mars decided to align the UK product with the global Snickers name (Mars had marketed and discontinued an unrelated bar named Marathon in the United States during the 1970s). There are also several other Snickers products such as Snickers mini, dark chocolate, ice cream bars, Snickers with almonds, Snickers with hazelnuts, Snickers with pecans, Snickers peanut butter bars, Snickers protein and Snickers with Extra Caramel, as well as espresso, fiery, and sweet & salty versions.
Snickers Duo
A replacement for the king size Snickers bar was launched in the UK in 2004, and designed to conform to the September 2004 Food and Drink Federation (FDF) "Manifesto for Food and Health". Part of the FDF manifesto was seven pledges of action to encourage the food and drink industry to be more health conscious. Reducing portion size, clearer food labels, and reduction of the levels of fat, sugar, and salt were among the FDF pledges. Mars Incorporated pledged to phase out their king-size bars in 2005 and replace them with shareable bars. A Mars spokesman said: "Our king-size bars that come in one portion will be changed so they are shareable or can be consumed on more than one occasion. The name king-size will be phased out."
These were eventually replaced by the 'Duo' - a double bar pack. Though this change to Duos reduced the weight from 3.5 to 3.29 ounces (99 to 93 g), the price remained the same. The packaging has step-by-step picture instructions of how to open a Duo into two bars, in four simple actions. As Mars stated fulfillment of their promise, the Duo format was met with criticism by the National Obesity Forum and National Consumer Council.
Australian recall
In December 2000, tens of thousands of Snickers and Mars Bars were removed from New South Wales store shelves due to a series of threatening letters which resulted in fears that the chocolate bars had been poisoned. Mars received letters from an unidentified individual indicating that they planned to plant poisoned chocolate bars on store shelves. The last letter sent included a Snickers bar contaminated with a substance which was later identified as rat poison. The letters claimed that there were seven additional chocolate bars which had been tampered with and which were for sale to the public. As a precautionary measure, Mars issued a massive recall. Mars said that there had been no demand for money and complaints directed to an unidentified third party.
Ingredients
The early (1939) ingredients list includes white sugar, sweet milk chocolate, corn syrup, peanuts, milk condensed with sugar, coconut oil, malted milk, whites of eggs and salt. By 2019 the ingredients for the original bar had been refined to milk chocolate (sugar, cocoa butter, chocolate, skim milk, lactose, milkfat, soy lecithin, artificial flavor), peanuts, corn syrup, sugar, palm oil, skim milk, lactose, salt, egg whites, artificial flavor.