We're Getting Mutants in the MCU - The Loop
Play Sound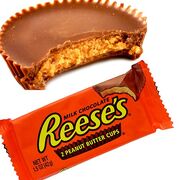 Reese's Peanut Butter Cups are an American candy consisting of a chocolate cup filled with peanut cream, marketed by The Hershey Company. They were created by H. B. Reese, a former dairy farmer and shipping foreman for Milton S. Hershey. Reese left his job at The Hershey Company to start his own candy business.
The H.B. Reese Candy Company
In 1923, The H.B. Reese Candy Company was established in the basement of Reese's home in Hershey, Pennsylvania. Reese had originally worked at a Hershey dairy farm, and from the start he used Hershey Chocolate in his confections. Reese's Peanut Butter Cups were his most popular candy, and Reese eventually discontinued his other lines. H. B. Reese died on May 16, 1956, in West Palm Beach, Florida passing the company to his six sons, Robert, John, Ed, Ralph, Harry, and Charles Richard Reese. On July 2, 1963, the Reese brothers merged the H.B. Reese Candy Company with the Hershey Chocolate Corporation in a tax-free stock-for-stock merger. In 2019 after 56 years of stock splits, the Reese brothers' original 666,316 shares of Hershey common stock represented 16 million Hershey shares valued at over $2.5 billion that paid annual cash dividends of $49.4 million. In 1969, only 6 years after the Reese/Hershey merger, Reese's Peanut Butter Cups became The Hershey Company's top seller.
The H.B. Reese Candy Company is maintained as a subsidiary of Hershey because the Reese plant workforce is not unionized, unlike the main Hershey plant. In 2012, Reese's was the best-selling candy brand in the United States with sales of $2.603 billion, and was the fourth-best-selling candy brand globally with sales of $2.679 billion—only $76 million (2.8%) of its sales were from outside the United States market. Additionally, the H.B. Reese Candy Company manufactures the Kit Kat in the United States, which had 2012 U.S. sales of $948 million.
As of October 2017 in the U.S. convenience store channel, Reese's was the largest confection brand by far: it was 62% larger than the next brand, with more households purchasing Reese's than any other confection brand across the United States. Reese's includes the overall top-selling confection item—the Reese's Peanut Butter Cups King Size—as well as six of the top 20 chocolate/non-chocolate items. Additionally, the Reese's brand accounts for over 47% of all seasonal sales within the U.S. convenience store channel, including the top two items in the largest four commercial seasons: Valentine's, Easter, Halloween, & Christmas. As a comparison, the next largest brand accounts for only 10% of seasonal sales