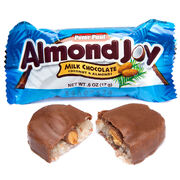 Almond Joy is a candy bar manufactured by Hershey's, consisting of whole almonds and sweetened, shredded coconut covered in milk chocolate. The company also produces Mounds, a similar confection that omits the almonds and is coated in dark chocolate. The two bars have the same packaging and logo design, but Almond Joy has a blue color scheme while that of Mounds is red.
History
The Peter Paul Candy Manufacturing Company was founded by six Armenian immigrants including Peter Paul Halajian and Max Freedman in 1919, introducing the Mounds bar in 1920, which became a hit with the U.S. military during World War II, who by 1944 purchased 80% of their production for use in rations (5 million bars/month). The Almond Joy bar was introduced in 1946 as a replacement for the Dreams Bar, which was introduced in 1934, consisting of diced almonds and coconut covered with dark chocolate. In 1978, Peter Paul merged with the Cadbury-Schweppes company of England. In 1988, Hershey's purchased the United States rights to their chocolate business for $300 million, which included the Mounds, Almond Joy, and York Peppermint Patties brands, in addition to Cadbury-only products such as Dairy Milk and Carmello. The name "Almond Joy" was selected by Peter Paul employee, Anna Z. Ranaudo from Naugatuck, CT.
During the 1970s, Peter Paul used the jingle "Sometimes you feel like a nut / Sometimes you don't / Almond Joy's got nuts / Mounds don't", written by Leo Corday and Leon Carr and sung by Joey Levine, to advertise Almond Joy and Mounds in tandem. In a play on words, the "feel like a nut" portion of the jingle was typically played over a clip of someone acting like a "nut", doing something unconventional, such as an equestrian riding on a horse backward or a bride carrying her groom over the threshold.
In the 2000s, Hershey began producing variations of the product, including a limited-edition Piña Colada and Double Chocolate Almond Joy in 2004, a limited-edition White Chocolate Key Lime and Milk Chocolate Passion Fruit Almond Joy in 2005, and a limited-edition Toasted Coconut Almond Joy in 2006.
Similar products
Bounty (produced by Mars, Incorporated) is a popular British version of Almond Joy, similar in shape and make-up, although without the almond (like Mounds, but sometimes with milk chocolate instead of dark chocolate, though Bounty is also sold in dark chocolate). F.B. Washburn Candy Corporation produced the Waleeco chocolate-covered coconut candy bar for many years.
In popular culture
Train buffs have noticed a resemblance between the M3 (a type of subway car built by the Budd Company for Philadelphia's public transportation system) and this candy, due to humps in the roof containing ventilation fans. They refer to the cars as "Almond Joys".
The advertising slogan "sometimes you feel like a nut, sometimes you don't" was featured in the funk/dance song "Wide Receiver" by Michael Henderson.
In Weeds, Almond Joy was the favorite candy of Nancy's late husband, Judah. Episode nine of season two uses the candy's theme song.
In the movie Kelly's Heroes, a case of Almond Joy bars is seen in the background behind Don Rickles' supply depot desk, as he is speaking with Clint Eastwood. This is an anachronism since Almond Joy was not introduced until 1946.
One of the Allman Brothers' early band names was the Allman Joys.
Har Mar Superstar's album Dark Touches features a song named after the candy bar where it is used as a typically sexual metaphor for comic effect.
In the 1991 movie Hudson Hawk starring Bruce Willis, Lorraine Toussaint's character, a CIA agent, is named Almond Joy. Other CIA agents in the film are named after candy bars.
Prince's album Diamonds and Pearls features a song called "Gett Off" that includes the lyrics "Strip your dress down like I was strippin' a Peter Paul's Almond Joy. Lemme show you baby I'm a talented boy"
A witness in the television series Better Call Saul season 5 episode 4 claimed that the defendant ordered an Almond Joy before he committed a supposed robbery.